Orthodontic Office Safety Protocol – Worcester, MA
Keeping Your Family Safe Every Day
To our Valued Patients and Families,
Our orthodontic office is OPEN and we are actively scheduling patients for ALL treatments and appointment types. Please call our orthodontic office and one of our team members will assist you in scheduling your appointment. While we have many patients seeking to reschedule or book new appointments, we have a limited schedule due to the safety protocols we are instituting below. Should you need to cancel your scheduled appointment, please let us know within 48 hours so that we can plan our clinical schedule accordingly.
We want to ensure that you know you are safe and protected while visiting our orthodontic office. Our team has been working diligently to welcome you back. Along with routine and standard infection control guidelines, we have incorporated new protocols as a result of the recent pandemic which our team members have been trained on. Below are some of the new standards you can expect to see and experience at your next visit.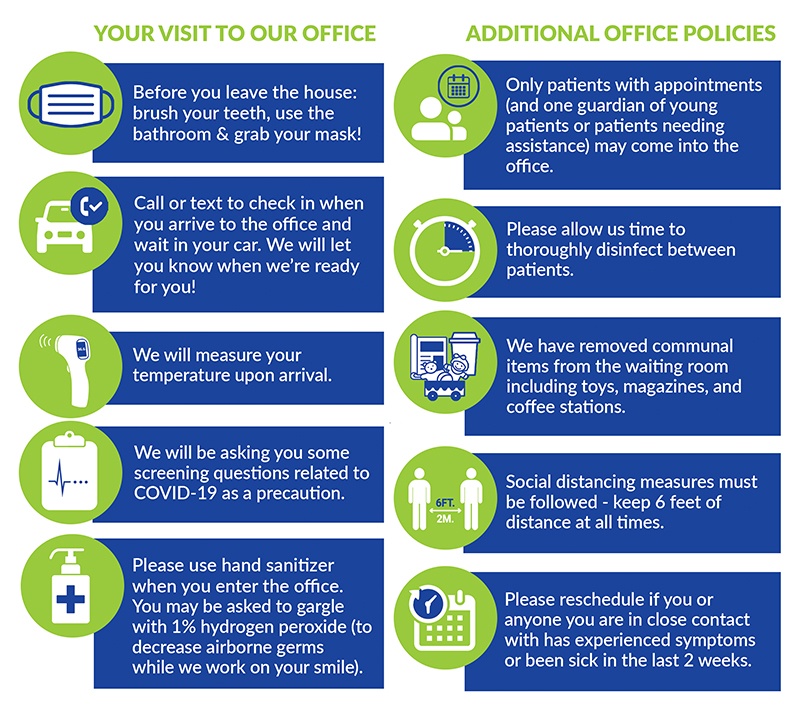 As always, we are here to answer any questions you may have in regard to the safety measures we will be implementing. We are here to serve you and welcome any feedback or suggestions you may have.
If you are on Facebook, please "LIKE" our page, as it is a great way to stay in touch. You will find some amazing content, fun activities as well as staff and orthodontic office updates.
As partners and caretakers in your oral and overall health, we are here for you and look forward to smiling with you soon! Thank you!