Invisalign Clear Aligners – Worcester, MA
More Convenience, Easily Removable Orthodontics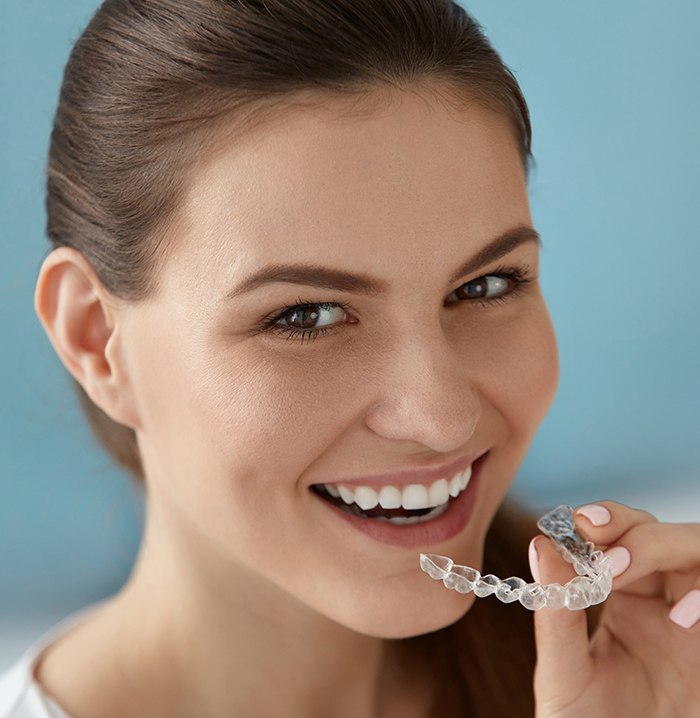 While they are highly effective, it's no secret that traditional braces tend to get in the way during meals and oral hygiene. If you have less severe orthodontic issues, you'll be able to opt for Invisalign instead! This smile-friendly option ensures you have more freedom during your orthodontic treatment. By giving Super Braces of Worcester a call and scheduling a no-cost consultation, you can learn more about Invisalign clear aligners from our Worcester, MA orthodontist and whether it's right for you!
How Does Treatment Work?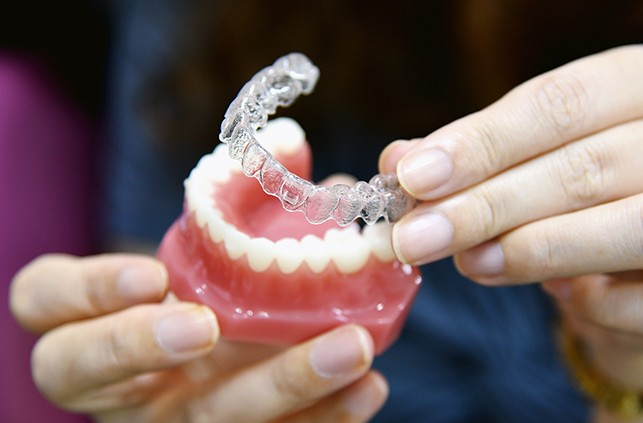 We start by providing you with a series of clear trays that are designed from a reference impression of your current smile. Each tray is worn for about two weeks at a time for 22 hours per day. During this time period, your teeth will begin to slowly shift into their straighter positions. After you've worn every pair of trays, you'll also wear a retainer to keep your teeth in place. While you won't need to visit our orthodontic office as often compared to wearing metal braces (as you'll be given the entire series upfront), you will need to return periodically so we can confirm your teeth are shifting as intended.
What Can I Expect from Treatment?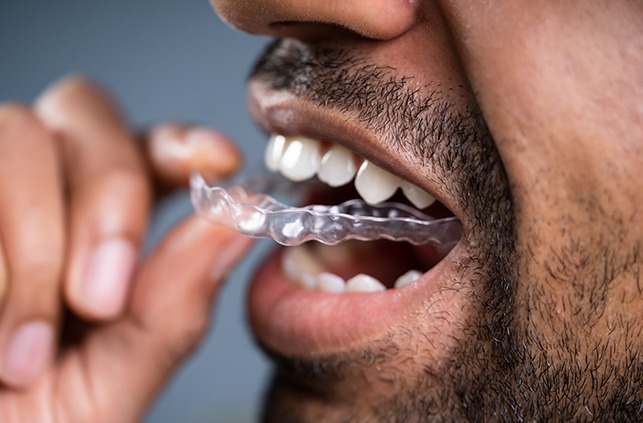 Invisalign trays are removable, but that doesn't mean you can keep them off for too long. In fact, you'll need to wear the trays for a specific period of time every day in order for them to exert enough gentle pressure to your teeth. It's important that you take them out when eating meals, brushing, and flossing like you typically would, which means you don't need to make dramatic changes to these habits. On top of that, you should be cleaning and rinsing your aligners regularly as well as storing them in a safe place when you aren't wearing them.
Am I A Candidate for Invisalign?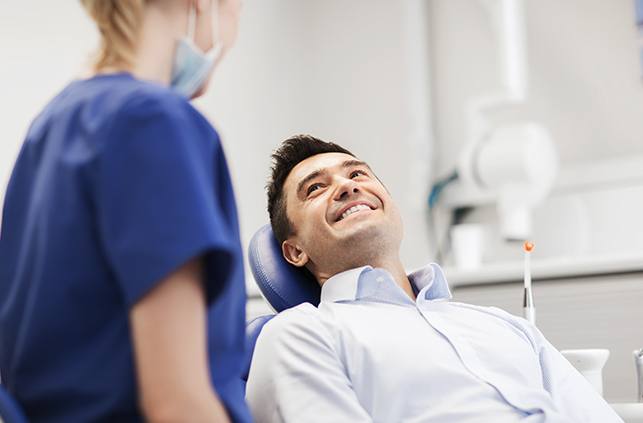 While Invisalign is an ideal option for many patients, it is not intended to handle severe cases of misalignment or significantly uneven bites. If you do need to make mild to moderate corrections and have all your permanent teeth, Invisalign can likely benefit you. We recommend treatment mainly to teens and adults as children's teeth are still developing, making it less effective. Additionally, children tend to lack the necessary discipline to wear their aligners. If you're concerned about all the different factors that can affect your candidacy, we'll discuss them at your appointment.
Understanding the Cost of Invisalign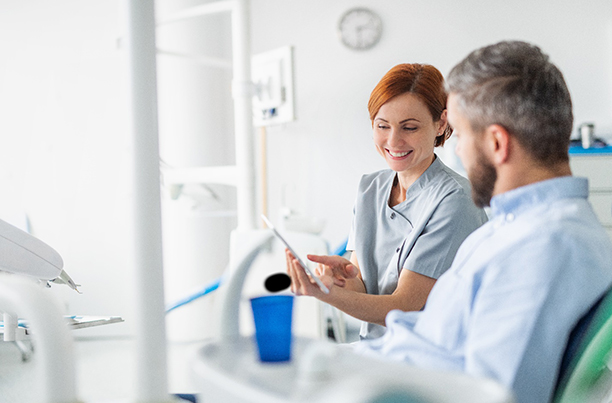 During the consultation, one of the first questions patients often ask is, "How much does Invisalign in Worcester cost?" While we can certainly provide you with an estimate at the end of your visit, pinpointing an answer without a dental exam and deeper knowledge of your smile goals is near impossible. Don't worry though – we're going to cover some important factors that play a role right here.
Factors That Affect the Cost of Invisalign
Invisalign isn't a one-size-fits-all treatment. So, naturally, there isn't a one-size-fits-all answer when it comes to price! To provide you with an estimate, our Worcester orthodontist will determine:
The severity of your misalignment
If you need to straighten one arch of teeth or both
How many aligners are needed
If additional tools, like rubber bands, are required
These are all factors that will impact the upfront cost estimate. Of course, there are things that can change the price along the way, like if you lose your aligners or fall off-track with your original treatment plan. That's why it's vital that you follow all of your orthodontist's instructions, from the 22-hour-a-day wear time to placing your trays in their designated storage case each time you remove them.
Invisalign vs. Smile Direct Club™: Which Costs More?
When comparing the upfront costs, Smile Direct Club™ and other DIY orthodontic brands are certainly cheaper. Before committing, however, it's important to ask yourself why that is. Although Invisalign requires a higher investment, your treatment will also be overseen by a licensed dental professional. Plus, Invisalign has safely helped more than 12 million people achieve their smile goals and has support from professional organizations. The same cannot be said for DIY orthodontic brands. So, don't gamble your smile on mail-order clear aligners; trust your smile with Invisalign, the reliable, personalized, safe option.
Does Dental Insurance Cover Invisalign?
It's possible! While the answer depends on your specific dental plan, many providers offer a once-in-a-lifetime benefit that can be used towards Invisalign treatment. If you aren't familiar with your coverage, don't worry – we can help with that too. Get in touch with our team so we can help you utilize your available benefits to the fullest.
Options for Making Invisalign Affordable
Don't have dental insurance? Don't worry! Our team offers two other options for making the cost of Invisalign in Worcester more affordable:
Periodic Special Offers – With specials like $550 off Invisalign, we can help you lower your out-of-pocket expenses significantly. To learn about our latest offers, get in touch with our team!
CareCredit – With this trusted third-party financier, you can space out your payments over the course of several months. For qualified patients, there is little-to-no interest attached as well!
If you'd like to get a price estimate or have a question about the cost of Invisalign in Worcester, then we encourage you to reach out to our team. We look forward to helping you take the next step toward your dream smile!
Invisalign Frequently Asked Questions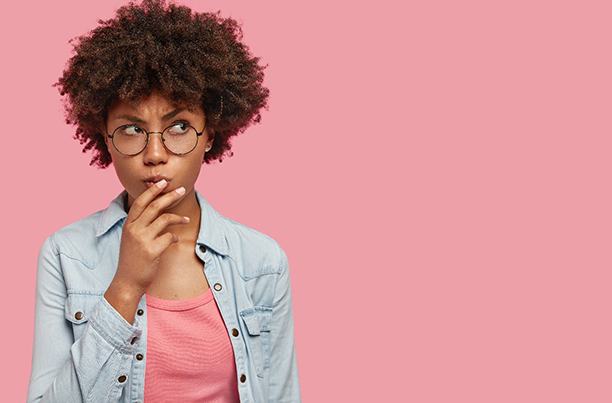 Are you ready to get a straighter smile with Invisalign? It's likely that you have a few questions that need to be answered before you're ready to commit to a treatment plan. For your convenience, we've gathered some of the most common questions we get below so you can learn more about this unique orthodontic treatment. As always, if you don't see the information you're looking for, feel free to get in touch with us!
I'm Interested in Invisalign. Where Do I Start?
Your first step on your journey towards a straighter, healthier smile is to come visit us for a consultation. During this first appointment, we'll chat with you about your goals for your smile and take a look at your teeth, gums, and jaws. From there, we'll be able to tell you if you're a good candidate for Invisalign, how long treatment may take, and an estimate of the cost.
Am I Too Old to Get Invisalign?
While some patients may be too young to get Invisalign yet, there is no upper age limit! In fact, millions of adults choose to begin Invisalign every year. These clear, removable aligners are ideal for blending into a busy, professional lifestyle. You won't need to worry about a mouthful of metal as you go to business lunches, apply for jobs, chat with other parents, or go on a first date.
Does Wearing Invisalign Hurt?
Traditional metal braces are notorious for painfully rasping against the soft tissues in the mouth. Thankfully, this isn't a problem with Invisalign! Smooth, plastic aligners are specifically designed to glide past the inside of your cheeks and lips without causing irritation. You can expect a much more comfortable straightening experience with Invisalign!
However, all orthodontic treatment comes with some degree of discomfort as the teeth are repositioned. Our patients are happy to report that any soreness that they experience with Invisalign is mild and fades within a few days. In the meantime, you can take over-the-counter pain relievers or apply an ice pack to the outside of your mouth. Many patients recommend switching to a new set of aligners right before bed in order to sleep through most of the initial soreness.
What Foods Do I Have to Avoid During Invisalign Treatment?
You won't have to modify your diet at all during your Invisalign treatment! While there are plenty of foods you need to avoid while wearing traditional metal braces, you can keep enjoying all your favorite foods and drinks with Invisalign. Simply take your aligners out, enjoy your meal or snack, then give your teeth a quick brush before putting them back into place. However, just be sure that you always brush your teeth before putting your aligners back in. Also, make sure your aligners never come in contact with any foods or beverages other than water.
Will I Need to Wear a Retainer After My Invisalign Treatment?
The straighter smile that Invisalign can help you achieve can last a lifetime! However, that's only if you take the right steps to protect your results. A retainer is essential after any orthodontic treatment, whether that's traditional braces or Invisalign. Retainers ensure that your teeth stay in place as your jawbone continues to heal after your treatment and as your mouth continues to naturally change shape for the rest of your life. As long as you follow our instructions for how often you need to wear your retainer, you can easily expect to enjoy your beautifully straightened smile for life!