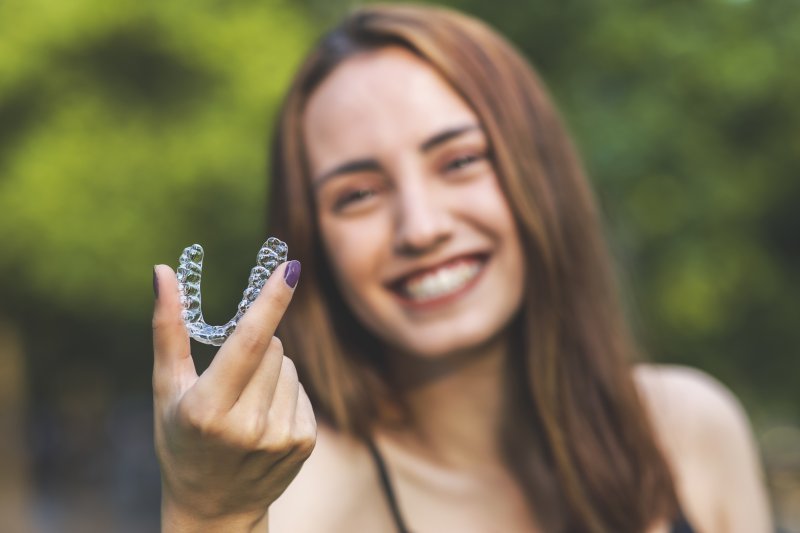 More than two decades ago, Invisalign debuted its clear aligners. Over the years, this revolutionary teeth-straightening system has helped millions of people around the world achieve their smile goals, making it a household name. However, many patients aren't fully aware of the freedoms that come with Invisalign. Keep reading for a few you can enjoy throughout your treatment!
Freedom to Smile
Decades prior, straightening your teeth required you to wear metal braces and dark-colored wires. Unfortunately, this led to the not-so-nice term "metal mouth." As a result, many patients avoided orthodontic treatment altogether. The good news is that Invisalign discreetly guides your teeth into a healthier, more aesthetically pleasing position with clear aligners that are practically invisible. So, you'll be able to smile freely (and confidently!) throughout your treatment.
Freedom to Enjoy Your Food
From crunchy apples to corn on the cob, there is a long list of foods you must avoid with traditional braces. Although these dietary restrictions are put in place to help protect you from sustaining an orthodontic emergency, they can be quite a nuisance. That's where Invisalign comes in! Since the clear aligners are completely removable, you can pop them out anytime you want to indulge. (Just make sure to exercise caution with foods that are high in sugar to prevent cavities from developing).
Freedom to Brush
Neglecting your oral hygiene routine can quickly derail your treatment timeline, which is yet another reason why consistently brushing and flossing is so important. Sadly, traditional braces can make that task quite cumbersome. Fortunately, Invisalign's removable trays allow you to complete your dental care regimen with ease. Once you're done, you can rinse them off, place them back in your mouth, and continue the rest of your day knowing you're on your journey to a smile that is as healthy as it is beautiful.
Straightening your teeth discreetly is a major benefit that comes with Invisalign, but it certainly isn't the only one. In fact, the above freedoms will help you genuinely enjoy the journey to your new and improved smile. So, get in touch with your orthodontist today to find out if Invisalign is right for you!
About the Author
Dr. Jaime Moon's journey to becoming an orthodontist began after graduating from the Columbia University School of Dental Medicine with her Doctor of Dental Surgery. From there, she completed a 3-year residency in Orthodontics and Dentofacial Orthopedics at New York University. Now, she has more than a decade of experience under her belt and is board-certified by the American Board of Orthodontics! If you're interested in learning more about Invisalign or would like to schedule your initial consultation, don't hesitate to visit our website or give us a call at 508-755-2207.