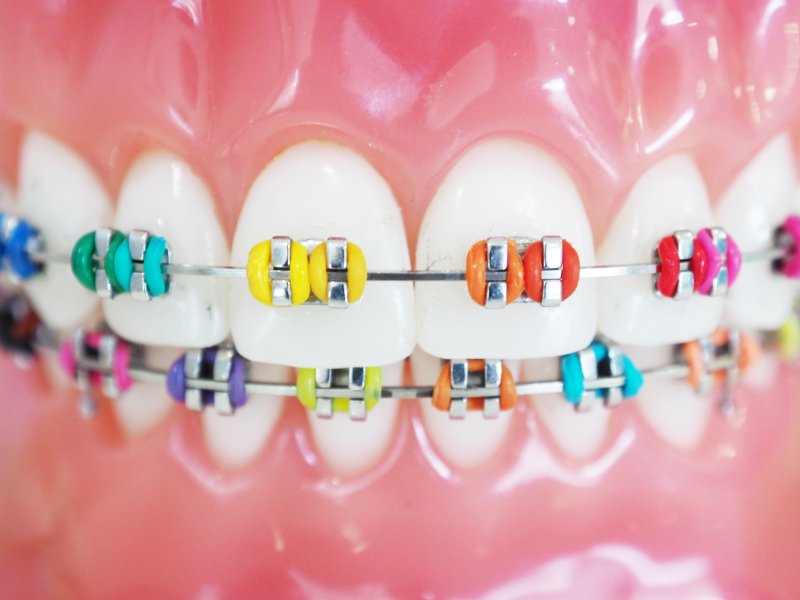 Braces are a tried-and-true teeth-straightening solution. In fact, they can address everything from minor crowding to severely rotated teeth. One of the best parts is that they can be personalized to match your mood and personality thanks to the colored rubber bands. Plus, at each adjustment appointment, you can switch it up! Keep reading to learn what the color of the rubber bands on your braces says about you (as well as some fun ideas!).
What the Rubber Band Colors on Your Braces Say About You
To gradually guide your teeth into their new and improved positions, you'll have follow-up appointments with your orthodontist periodically throughout your treatment. If you have traditional braces, you'll be given the opportunity to choose a new color of rubber bands each time. To guide your decision, below is a breakdown of the colors and what they say about you:
Red – Red is an intense color associated with forward-thinking, passion, and love. As a result, it signifies that you won't back down from a challenge and have a caring heart.
Blue – Blue is a more calming color (think a peaceful ocean or the sky on a summer day). Therefore, picking this color signals that you are calm and chill.
Green – Green is the color of nature and spring. However, it's also a color of good luck, making it perfect for St. Patrick's Day!
Orange – Orange is a vibrant color associated with words like fun, daring, and wild. There is a lot of positivity associated with the color, so you'll be bringing the good vibes with this choice!
Purple – Purple is the color of creativity and mystery. It also used to signify royalty since it was so rare. So, if you're feeling fancy, go with purple!
A Few Fun Color Ideas
If you're particularly fond of one color, then by all means choose just one. However, if you want to get really creative and show off your personality, ask for a few! Alternating colors, like red and green for Christmas or red, white, and blue for the 4th of July, is always a fun idea. You can also take a mixed-matched approach with one color on top and a completely different color on the bottom. Of course, if you can't decide on a color, you can do a rainbow pattern too!
Braces are a teeth-straightening service that can make your smile goals a reality, but why wait to enjoy your smile? Instead, have fun with the color of your bands to change up your look throughout your treatment!
About the Author
Dr. Jaime Moon is a board-certified orthodontist who loves spending her days helping patients get the straight, happy, healthy smiles they deserve. She earned her Doctor of Dental Surgery at Columbia University School of Dental Medicine and completed a 3-year residency in Orthodontics and Dentofacial Orthopedics at New York University. Today, she is an active member of numerous organizations, including the American Board of Orthodontics and the American Association of Orthodontists. If you'd like to learn more about traditional braces or are ready to schedule an appointment, visit her website or give her a call at 508-755-2207.