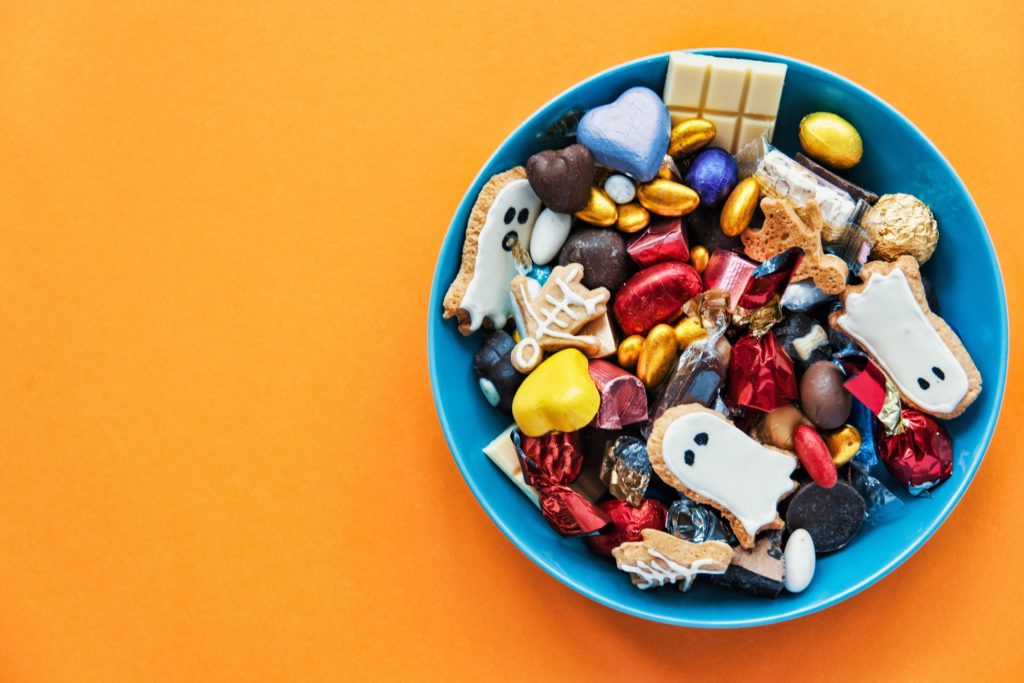 Sure, October is filled with festive décor, pumpkin carving, and spooky costumes, but what would this spooktacular month be without lots and lots of candy? If this is your first Halloween with braces, you may think you have to miss out on indulging in sweet treats. In reality, as long as you stick to the right ones, you can partake as you please! To learn the Halloween candy you can eat with braces, read on.
The Halloween Candy You Can't Eat with Braces
Before discussing the Halloween candy you can eat, it's important to review the ones that you should steer clear of. After all, the last thing you want is for your fun evening of trick-or-treating to turn into a stressful trip to your orthodontist's office! Here are a few to avoid:
Hard candies, like lollipops.
Chewy sweets, like caramel apples and taffy.
Sticky items, like bubble gum.
Sour treats, like sour heads.
Fruity candies, like Skittles.
The Halloween Candy You Can Eat with Braces
Don't worry – while caramel apples and mouth-puckering sour treats may be off the table, there are plenty of delicious candies you can indulge in:
Hershey's Kisses
Peanut butter cups
Silky cookies
Kit Kat Bars
Three Musketeers
Peppermint Patties
How to Keep Your Teeth Decay-Free During Halloween
Remember, even the "good" Halloween candy can cause cavities. That's why it's of the utmost importance that you implement a solid oral hygiene routine in October and beyond. That starts with brushing twice a day and expands to visiting your dentist every six months for a dental checkup and cleaning. You should also stick to a well-balanced diet for the majority of the month, filling your plate with plenty of vitamin-rich foods. Lastly, make sure to avoid unhealthy habits, like chewing on ice and using your teeth as tools to open things since these significantly increase your risk of experiencing an orthodontic emergency.
Avoiding candy the entire month of October is nearly impossible. Fortunately, you can use the above lists as a guide on which treats are worth indulging in. That way, you can enjoy this Halloween season to the fullest!
About the Practice
Leading our team at Super Braces of Worcester is Dr. Jaime Moon! A board-certified orthodontist with more than a decade of experience, she has helped countless patients enjoy seamless, comfortable orthodontic care. Since indulging in the wrong candy can take a serious toll on your teeth (and your treatment plan), we're encouraging everyone to pick and choose their treats wisely this Halloween. If you'd like to learn more approved candy or need to schedule an appointment to fix a broken bracket or wire, don't hesitate to visit our website or give us a call at 508-755-2207.