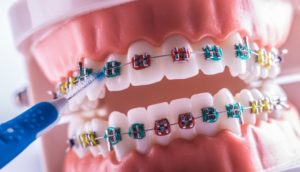 Wanting a set of straight, even pearly whites isn't a new trend. People have wanted straighter smiles for centuries, and early orthodontic treatments were around as early as 400-300 BC! Thankfully, modern-day braces have evolved a lot since then. Read on as we go over the fascinating history of braces and how they can benefit you today!
Early Braces in Ancient Times
Thousands of years ago, people in ancient civilizations were repositioning their teeth to achieve a straighter smile. Archaeologists have discovered ancient Egyptians, even mummies, that had small metal fixtures attached to their teeth. Instead of a wire connecting these pieces, researchers report that these early orthodontic brackets were held together with a cord made from animal skin.
Braces in the Age of Enlightenment
In the 18th century, the Age of Enlightenment radicalized the world. There were countless breakthroughs and advancements in nearly every area of study, including orthodontics. In 1728, Pierre Fauchard published a book titled "The Surgeon Dentist" that described a device that looked like a mouthguard and was designed to help teeth stay in the proper positions. Later, in 1757, Pierre Bourdet expanded and improved it, and discovered that wisdom teeth can be removed to prevent crowded teeth.
Braces Continue to Evolve in the 19th Century
All throughout the 1800s, orthodontics progressed by leaps and bounds. In 1819, Christophe-Francois Delabarre invented a wire crib that could be placed over the teeth. In 1843 and 1850, Dr. Edward Maynard and E.J. Tucker respectively added elastics and rubber tubing to make braces more comfortable.
Then, in 1894, Henry A. Baker combined rubber tubing with the wire crib to form the earliest version of what we would recognize as braces today. A year later, Eugene S. Talbot incorporated X-rays into orthodontic treatment, allowing for even better results.
The Braces Breakthrough in the 20th Century
It wasn't until the early 1900s that the term "braces" became popular. By this time, dentists would wrap metal bands around the teeth and connect them with a wire. In the 1970s, dental adhesive was introduced to hold brackets onto teeth and revolutionized braces. This made treatment far more comfortable and less invasive. As other materials like stainless steel were used to craft the brackets and wires, braces became more affordable and therefore more available to the public.
What This Means for You Today
Here we are in the 21st century, where we live in an era where orthodontists can draw on thousands of years of history and knowledge of braces. Plus, the latest dental technology and highest-quality materials continue to push the limits of orthodontic treatment as we know it to make it better than ever. In short, there's never been a better time to get a straighter, healthier, more beautiful smile! Give your dentist a call today to discover which orthodontic treatment is right for you.
About the Practice
Dr. Jaime Moon has been working in the field of dentistry for well over 13 years now and is an active member of numerous prestigious organizations like the American Board of Orthodontics, the American Association of Orthodontists, and the Worcester District Dental Society. She and her experienced team at Super Braces of Worcester offer a wide variety of the latest orthodontic treatments and have outfitted their office with state-of-the-art technology to achieve optimal results. To learn more about how you could benefit from braces, feel free to reach us online or at (508) 755-2207.