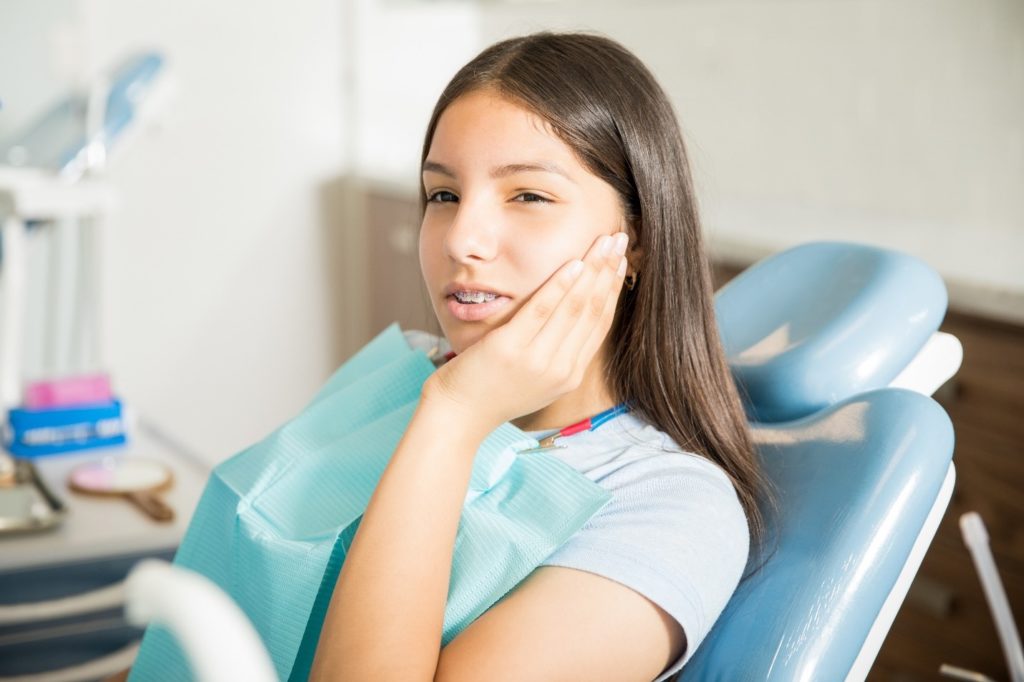 If you've had a mouth sore before, then you know how unpleasant they can be. In fact, who knew such a minor wound could make chewing, speaking, and even smiling so difficult? Luckily, there are several tips and tricks you can use to prevent mouth sores with braces. Read on to learn a few!
Tip #1. Disinfect Regularly
Throughout the day, the food particles and bacteria in your mouth can irritate the sore, resulting in an unpleasant stinging sensation. To combat this, keep your mouth as clean as possible by brushing twice a day, flossing daily, and rinsing with mouthwash periodically. (If you're going to be away from home all day, bring a travel-sized oral hygiene kit with you).
Tip #2. Drink Plenty of Water
Staying hydrated won't just keep your skin clean and your body healthy; it can also stimulate the production of saliva. Since saliva has antibacterial components that prevent ulcers in the mouth and minimize pain stemming from the abrasion, keeping a glass of H2O close by is essential for both avoiding and managing oral sores with braces.
Tip #3. Apply Orthodontic Wax
When you have a mouth sore, there is nothing worse than the feeling of your metal brackets and wires rubbing against it. Luckily, there is a solution: orthodontic wax. All you need is a small piece to cover any protruding edges that are causing you discomfort!
Tip #4. Manage Your Stress Levels
Did you know that there is a link between mouth sores and stress? Therefore, practicing stress-relieving activities is just as important as applying orthodontic wax and keeping your mouth clean. Exercising, reading, deep breathing, and practicing yoga are a few great places to start.
Tip #5. Avoid Acidic, Sugary, and Crunchy Foods
Opting for acidic, sugary, and crunchy foods may be tempting, but they can exacerbate the issue further, delaying healing and leading to more discomfort. Healing your mouth necessitates well-balanced, nutrient-dense meals. Therefore, do your best to stick to lean protein, roasted veggies, and filling carbs, like sweet potatoes and rice.
Oral sores can make day-to-day activities, like chewing your foods, less than comfortable. In fact, depending on how big it is, it can be downright painful at times. That's why knowing how to prevent and manage oral sores with braces is so important! Fortunately, the above tips should help along the way.
About the Practice
"Super" isn't just in our name; it's the foundation of our practice! Dr. Jamie Moon and the rest of our phenomenal team at Super Braces of Worcester go the extra mile to provide super value, super quality, super comfort, and super convenience. Part of making this goal a reality is focusing on patient education, like how to manage and prevent oral sores with braces. If you have a question about orthodontic treatment or would like to schedule an appointment, don't hesitate to give us a call at 508-755-2207 or visit our website.