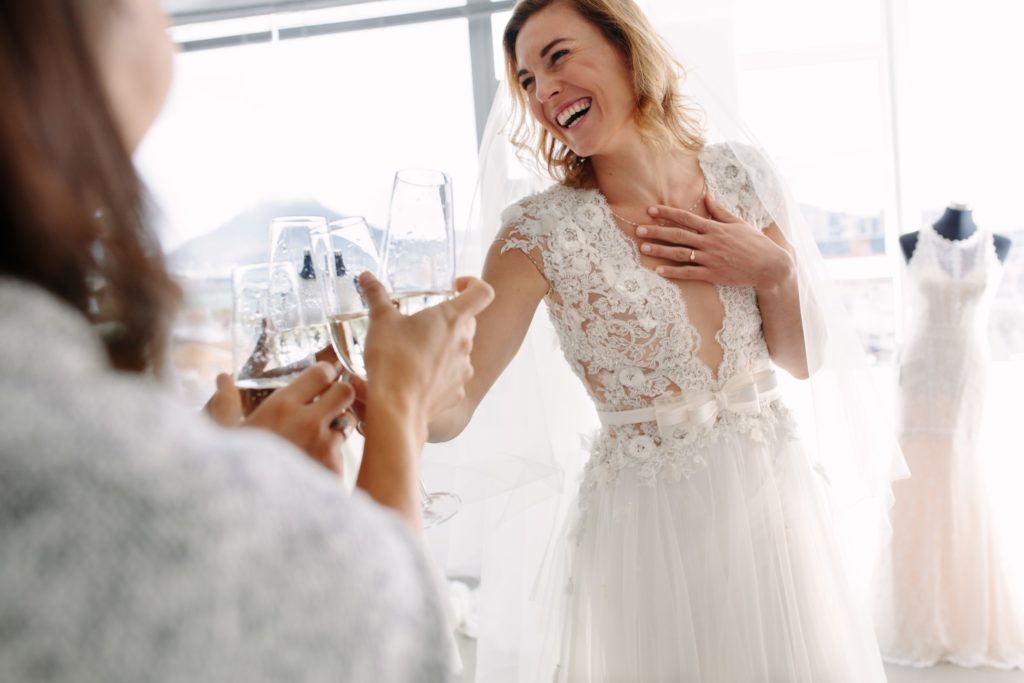 Did you recently get engaged? Congratulations! Since all eyes are going to be on you throughout your wedding day (and your engagement party, wedding shower, and other important events), you may be thinking of straightening your teeth. But what is the perfect timing for Invisalign? It's a common question brides and grooms ask themselves. To learn the answer, read on!
So, When Should You Start Invisalign Treatment?
In short, as soon as possible! There are a few reasons for this. To begin, you need to get a dental exam beforehand. If your dentist finds a serious oral health concern present, like a cavity or gum disease, you will need to get the appropriate restorative treatment first. Naturally, this can delay your treatment timeline, so it's important to plan ahead.
Secondly, the average treatment timeline with Invisalign is 12-18 months. So, it's a good idea to give yourself ample time to achieve your smile goals. This will also provide some wiggle room in case you fall off-track with your original treatment plan, adding more weeks or months onto your timeline.
4 Wedding-Related Benefits of Invisalign
If you're on the fence about whether or not to commit to Invisalign, it's important to remember that there are several benefits that are especially helpful while planning a wedding:
Clear aligners – Since the trays are clear, they won't draw any unwanted attention to your smile. In fact, you won't be able to see them when you smile to capture wedding planning milestones, like engagement photos.
No dietary restrictions – With traditional braces, you can't eat popcorn, caramel, and other hard/sticky foods. Not with Invisalign! Since the clear aligners are removable, you can take them out before cake tastings, wine pairings, and the like.
Hassle-free oral hygiene – Wedding planning can be stressful at times, and the last thing you're going to want to deal with is a cumbersome flossing routine. Don't worry – keeping your teeth and gums healthy with Invisalign is super simple.
Fewer check-in appointments – Metal braces require visits to your orthodontist's office every four weeks. Naturally, this can use up some of your valuable time. Luckily, there are fewer check-in appointments with Invisalign.
4 Additional Ways to Achieve a Camera-Ready Smile
Invisalign can drastically transform your smile, helping you leave crooked, gapped, and otherwise misaligned teeth in the past. However, to achieve the camera-ready smile you desire, it's also important to:
Brush your teeth each morning and evening with a soft-bristled toothbrush (this will help prevent dental discoloration)
Floss and rinse with mouthwash daily
Get a dental checkup and cleaning every six months
Avoid unhealthy dental habits, like nail-biting and smoking
You deserve to have a gorgeous smile on your wedding day that makes you feel confident. Invisalign can help! To get started on your teeth-straightening journey, get in touch with your orthodontist today.
About the Practice
Our team at Super Braces of Worcester doesn't just help children and teens achieve straight teeth and beautiful smiles; we help adults too! If you want to get Invisalign before your wedding day, we'd love to help you. During your personal consultation, we will even provide you with a treatment timeline estimate and share all our tips for staying on-track. If you want to learn more about Invisalign or you'd simply like to schedule an appointment, don't hesitate to visit our website or call (508) 755-2207.